A Guide to Venice's Hidden Charms and Little Known Itineraries, in the footsteps of Hugo Pratt
in bookstores from September 29th
Secrets, legends, magic: every nook, stone, and portal in Venice sings out about the richness of its history. In this new and elegant color edition, The Secret Venice of Corto Maltese allows the most adventurous travellers to explore Venetian secrets along seven different itineraries – all richly illustrated and full of practical advice.
The Secret Venice of Corto Maltese is not the usual touristy travel guide: it's the best way to lose and find yourself in the most fascinating hidden treasures of Corto Maltese's city. 
Publisher: Rizzoli Lizard
Pages: 232, colors
Format: 22.6×12.5
Language: English
ISBN: 9788817148887
Prezzo: € 19,00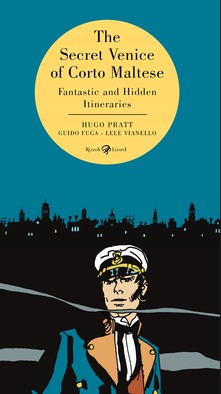 Hugo Pratt always considered Venice the centre of the world: and in his centre of the world, among corti sconte and ancient monuments, secret gardens and echoes of distant worlds, he strolled with his closest friends.
Whoever was walking alongside him found it hard to resist the charms of the city, because as Pratt described it, Venice sparkled in every detail, in all its beauty and mystery. As part of that group of friends, Guido Fuga and Lele Vianello set out to write about those thirty years of walks, creating seven different itineraries. These are seven "doors" that guide the reader into secret campi and campielli, unforget table views, and the excellent eateries of Venetian cuisine, far from the tourist- beaten paths and deep into the fascinating story of the world's most beautiful city.