FROM OCTOBER 14TH 2021 TO MARCH 20TH 2022
Hugo Pratt da Genova ai mari del Sud, an exhibition that celebrates a historical period of Italian comics: from Sergeant Kirk to the birth of Corto Maltese, get ready to set sail for distant islands in the wind.
From the beginning of October, the catalog will also be available, which contains an important surprise. Designed as the 63rd issue of Sgt. Kirk magazine, in addition to the images from the exhibition, it also contains an unpublished story by Hugo Pratt never published in Europe.
From October 
10th
2021 to March 

20th 

2022

– extended until May 
8th 
2022!
Hugo Pratt and Genoa, from history to legends
The exhibition "Hugo Pratt da Genova ai mari del Sud" (Hugo Pratt from Genoa to the South Seas) was born from a story, which then created a legend.
In the 1960s, the businessman Florenzo Ivaldi decided to make his dream come true: to create a comic book magazine where the artist he most admired, Hugo Pratt, would work. Pratt had just returned to Italy from Argentina where, together with Hector German Oesterheld and many others, he had created the embryo of what would be called "drawn literature" in the near future. Ivaldi joined Pratt in Venice, they sat down at Scarso's and there he expressed his dream. Nobody will ever know what was said, between a glass of wine and stories of distant lands; the fact is that in 1967 Hugo Pratt moved to Genoa and soon after began the magazine Sgt. Kirk.
For the occasion, Hugo wanted to create an unpublished story to accompany the translation of those already published in South America. It was "The Ballad of the Salty Sea". The myth had begun.
The concept of the exhibition
The exhibition is promoted and organized by the Fondazione Palazzo Ducale per la Cultura and CMS. Cultura, and its curator is Patrizia Zanotti, general manager of Cong, who has perfectly traced a new itinerary from Genoa to the places of Pratt's imagination overseas.
As Patrizia Zanotti explains, "Yes, because Pratt, with his adventurous life, is no less than his emblematic character: from Venice, his birthplace, to colonial Africa where he spent his adolescence with his military father, to Argentina in the 50s, and back to Venice, passing through Genoa, Milan, Paris, Lausanne. . from where Corto leaves for the legendary places that have been part of his reference literature: the Caribbean, the Amazon, Asia, Venice, Normandy and England to the mythical Stonehenge, and again Africa until Mū, the lost continent. "
So let's get ready to set sail on this journey through more than 200 original watercolors, illustrations, literary references and stories about idealists, revolutionaries, adventurous women and extraordinary men, from Lieutenant Koensky to Anna Livingstone, from Ticonderoga to Corto Maltese. To resume Wheeling, the path this time will be that of newfound friendships.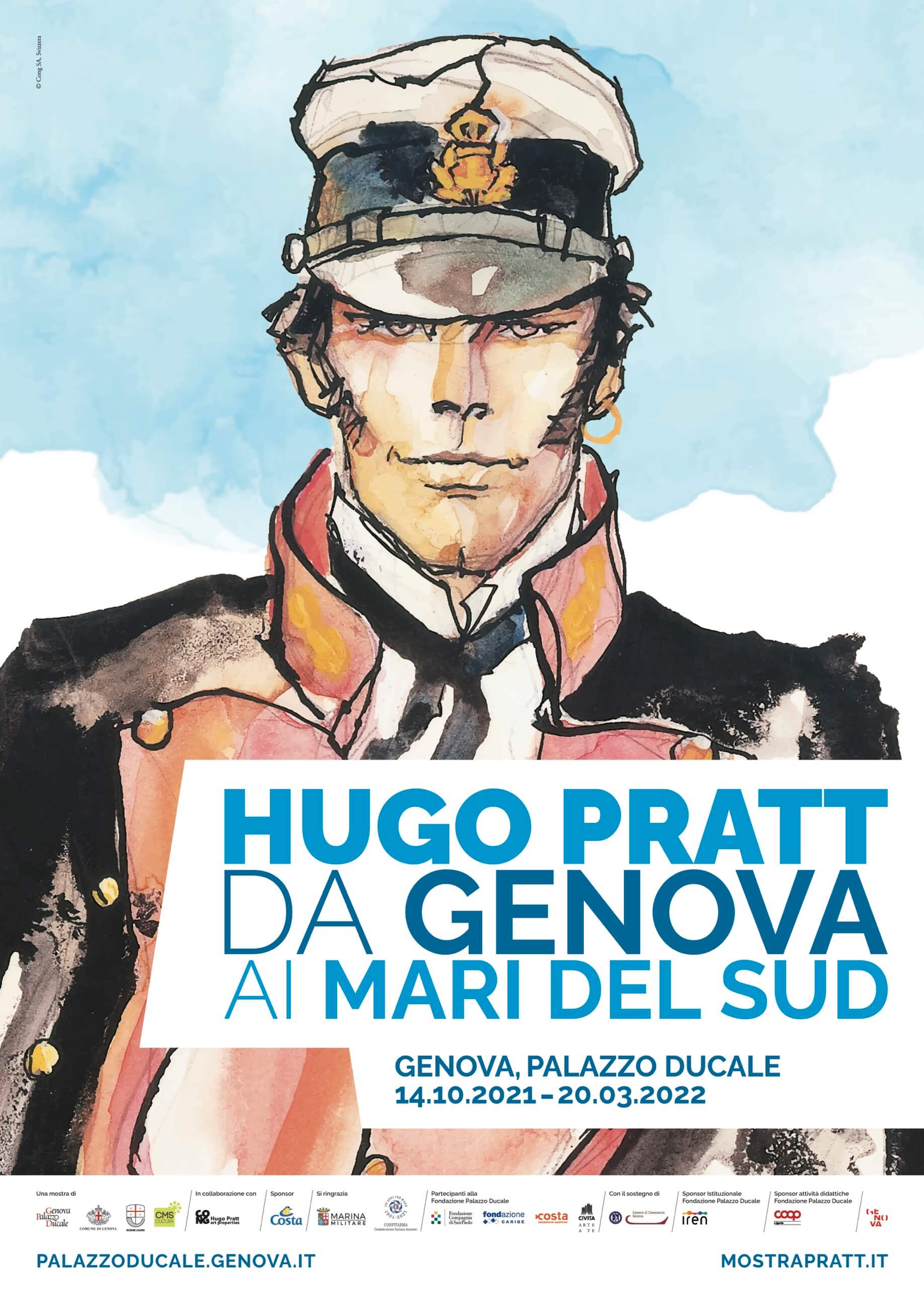 Address: Piazza Matteotti, 9
Cap: 16123, Genova
Monday: 14.00 – 19.00
Tuesday Wednesday Thursday, saturday e sunday: 10.00 – 19.00
Friday:10.00 – 21.00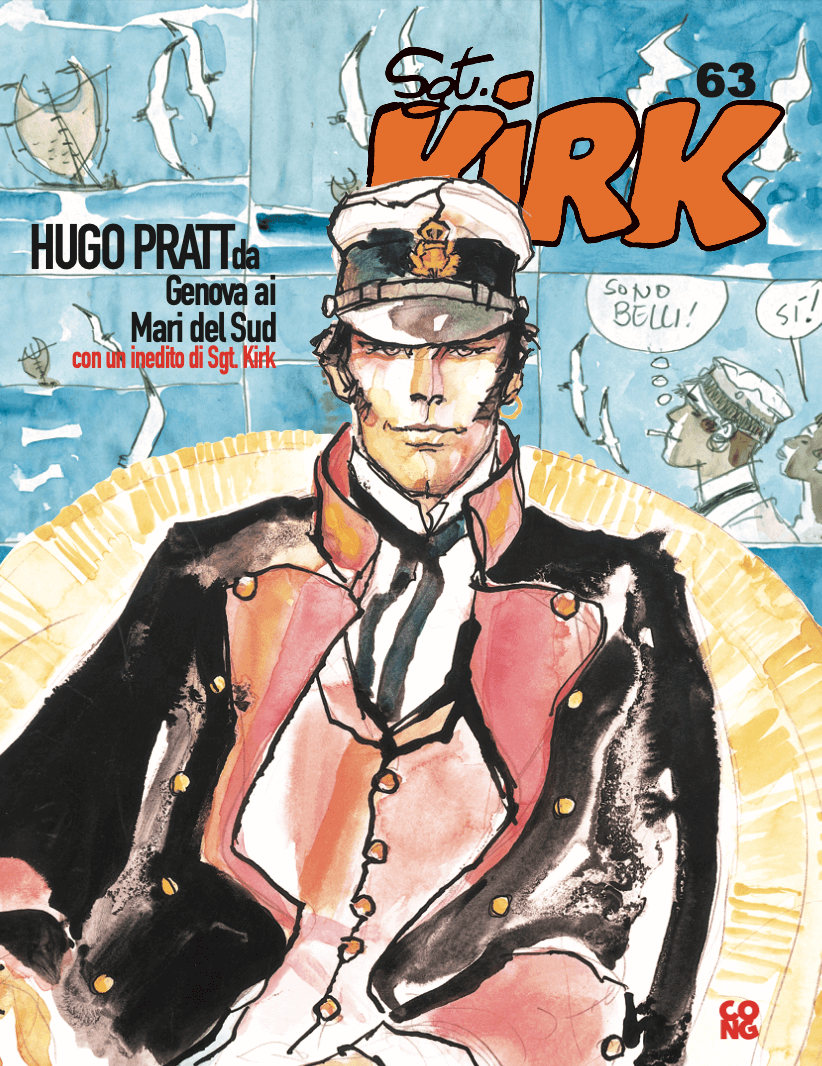 Sgt. Kirk N°63 – the catalog of "Hugo Pratt da Genova ai mari del Sud"
Genoa and Pratt? It is impossible not to add to this binomial the magazine "Sgt Kirk", because it is from here that Corto, after landing in 1967, left for the South Seas, never to stop in the following 28 years of travelling with his author.
In this catalog we wanted to give points of reference on the world of Hugo Pratt without pretending to be exhaustive because from Pratt, in fact, we always discover new watercolors, drawings, inks that he offered to friends and collaborators but also stories never published in Europe, but only in the mythical Argentine magazines and for this catalog we had the opportunity to propose an unpublished story of Sgt. Kirk, "Wahtee's justice" published in the Argentine magazine Super Misterix in May 1956.
SGT. KIRK, HUGO PRATT DA GENOVA AI MARI DEL SUD
Publisher : Cong SA
Pages: 104 en couleur
Format: 22.5×29, broché
Price : 17,50 euro
ISBN 978-2-940552-38-2