Corto Maltese – The Tarowean'S Day
/

Corto Maltese – 
Dia de Tarowean
Inspired by Hugo Pratt work /

Inspirado na obra de Hugo Pratt
Written by /

Argumento

: Juan Díaz Canales
Drawn by /

Desenho

: Rubén Pellejero
Available on 8

th

November, 2019 / 

À venda a 8 de Novembro nas livrarias
Depois do aparecimento de A Balada do Mar Salgado, milhões de leitores por todo o mundo interrogam-se sobre as circunstâncias que levaram Corto Maltese a encontrar-se atado a uma jangada à deriva ao largo da ilha de La Escondida… Que crime terá cometido? Que papel desempenharam o Monge e Rasputine nesta Aventura? O Dia de Tarowean ergue finalmente o véu sobre o mais célebre mistério do Pacífico.
November 1st is Tarowean's day, or, the day of surprises. Just like that, the surprise arrives on the first of November with the publication of the next of Corto Maltese's adventures, drawn and written by Ruben Pellejero and Juan Diaz Canales.
The new story, the third realized by the two Spanish authors after Hugo Pratt's death, is the prequel to "The Ballad of the Salty Sea." "Tarowean's Day" concludes with the iconic image of Corto tied to the raft, right where his millions of fans discovered him for the first time in 1967.

The ingredients found in the story remain the classical ones. In it we find the Pacific Ocean between the Borneo and New Caledonia, with its waves and its silences, we find a prince chased from his own island who lost his memory and his freedom, we find the Monk who will always remain the ruthless sovereign of his faithful subjects, we find a "girl from Amsterdam" who lost the use of her legs and now resembles a seductress siren, we undoubtedly find Rasputin who will take care of his own interests and profits with the honest cynicism of a good rogue.

Mixed between charming women and propitiatory rites, we find the star in question: Corto Maltese, who will even reach the point of getting engaged to a good woman wrongfully accused of a crime. Corto will not end up at the altar, as per the sailor's contract and that of free citizen of the world, however, he will save the girl from an atrocious end. And just as everything seems to have turned out for the better, with a prince ready to step back onto his throne, Corto will have to face the mutiny of his ship's crew, leading to his jump into the Pacific and onto the raft.
The storm of the day of surprises will be, from what can be foreseen, swept by naval mutinies, islands and tyrants, and ambitious monks. Rasputin, along with Pandora and Cain, will then arrive to save him, but this is yet another story.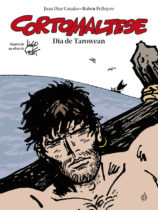 Corto Maltese –Dia de Tarowean
Publisher/ Editora: Arte de Autor
Inspirado na obra de Hugo Pratt
Argumento: Juan Díaz Canales
Desenho: Rubén Pellejero
Páginas: 80 cores
Edição: Cartonada
Língua: portuguesa
ISBN: 978-989-54326-7-7 
Preço: € 19,90